Let's dive a little deeper in these benefits.
1. It tells Google everything it needs to know
Google likes it when you tell it a little bit about yourself:
Name of your business
Type of business
Physical location
Opening hours
But just putting this information on your contact page won't do the trick. You'll need this data in Schema.org as well, so Google sees it on every single page.
The Local SEO plugin takes care of all that technical stuff for you under the hood:
KML File generation and automatically adding these to your XML sitemap (needed for Google)
Address output in Schema.org format
Showing opening hours (with Schema.org output)
Showing Google Maps instantly on your website, including a route planner
Submitting all of this technical data to Google
So no worries if this specialized local SEO stuff sounds confusing: the Local SEO plugin fixes it for you.
2. It pimps your contact page
In just a few clicks, your contact page looks perfect: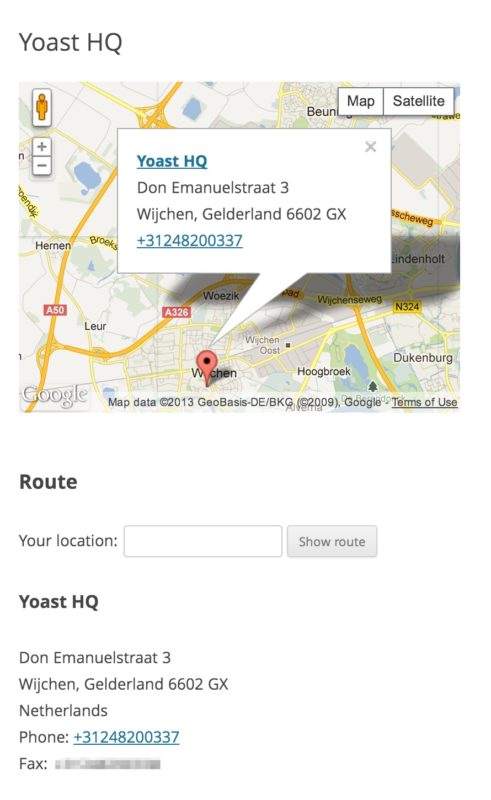 The plugin helps you to:
Embed Google Maps so people can get directions
Automatically show your up-to-date opening hours
No technical knowledge needed. It's done in just a few clicks.
3. It optimizes your local SEO for one or more locations
Do you have more than 1 physical location? The Local SEO plugin optimizes your Google listing for all of them, so people see the nearest option for them pop up in their search results.
You can also add a store finder on your website. Just upload a CSV file with all the details or type them in in WordPress. And of course, everything is responsive, so it looks just as professional on mobile: the main device people use for local search.
The Local SEO plugin for WordPress is right for you if:
You own a small business
You have one or more locations
You have local clients, and you'd like to save time
You're sick of seeing your competition show up higher
You'd like to get more customers and sell more
You don't want to pay an expensive SEO professional to optimize your website for local searches
The Local SEO plugin for WordPress is not for you if:
Your business doesn't depend on visitors actually setting foot in your store, center or office
You are a professional SEO expert who loves wasting time
You don't mind seeing all your potential customers go to the competition
You're fine with paying double the amount for an SEO professional to do all the proper markup and implementation